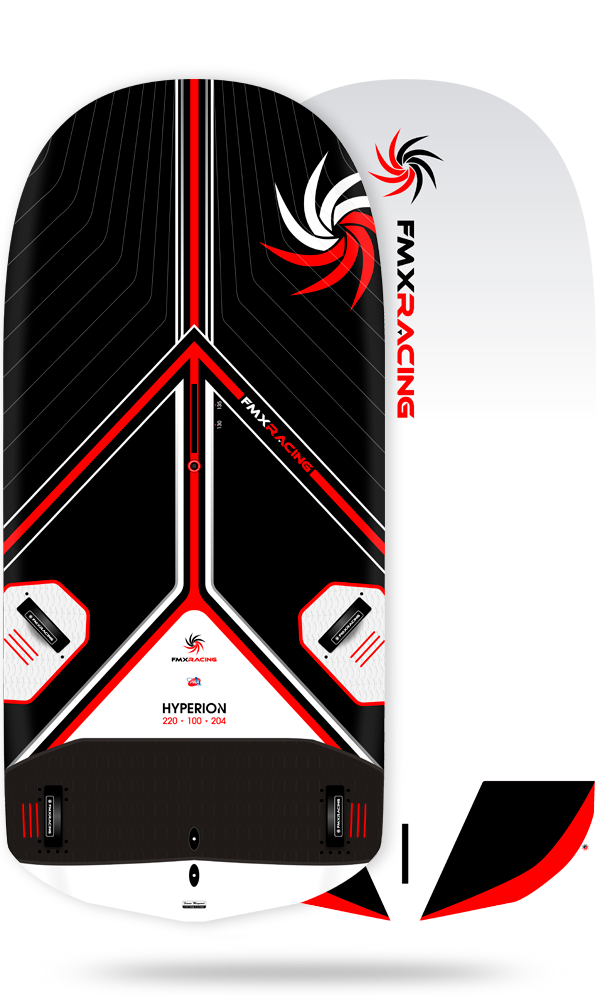 HYPERION

204
Competition Foil Race
The Hyperion 204 is a straight duplicate of the multiple PWA race and event winning Hyperion 184, but in a 100cm FW Class width.
All the same features that are proven on the 184 are carried over to this new 204 liter course racing thoroughbred.
More power over the foil due to the massive 99cm tail equates to higher pointing angles upwind and deeper downwind angles especially in under-powered conditions.
Features &
Benefits
•  Ultra compact and very wide nose/tail shape for increased power and angle upwind combined with solid stability downwind. Excellent glide and acceleration in the air. Very early planing due to the clever volume distribution.
•  Duplicate 184 race foil scoop-rocker line for easier handling, explosive acceleration and top-speed in both flat water and choppy foiling conditions. A proven curve that generates enough lift whilst still releasing drag, a key performance component of modern foil racing.
•  T-Beam style coned deck shape – Increases light wind power, drive, general stability and nose trim stability at high foiling speeds.
•  Reverse Vee bottom shape – Generous vee and double concave configuration in the nose to clear the chop and create a smooth ride especially when touching the nose coming off the foil, transitioning to less vee and dc in the tail for easier tilting of the board angled to the side for earlier planing alongside better glide when touching.
•  'V4 Vector Cuts'  – Straight line cutout design that facilitates clean and effortless water release for ultra fast planing onto the foil.
•  'Downwind Dominator' – Original deck recess area in the middle of the deck gybe area that increases the ability to pump deeper downwind in light wind and have more control overpowered. Fitted with a one piece 6mm deck pad from rail to rail to facilitate comfort and grip without having to fit subsequent footstraps that get in the way during foil gybes and tacks.
•  FOIL Tuttle Strong Box – Double the carbon content, double the wall strength and stiffness, double the width compared to a normal tuttle box, and built with a 100% high-density PVC sandwich body. The result – foils stay tight and the box holds the direct feeling performance even after prolonged use.
High-performance FW class upwind racing board for those sailors who want to perform at their very best.
INVICTUS
74
INVICTUS
88
INVICTUS
98
INVICTUS
108
INVICTUS
118
INVICTUS
128
INVICTUS
138
HYPERION
178
HYPERION
184
HYPERION
204
Technology
Pro Elite
Carbon
Pro Elite
Carbon
Pro Elite
Carbon
Pro Elite
Carbon
Pro Elite
Carbon
Pro Elite
Carbon
Pro Elite
Carbon
Pro Elite
Carbon
Pro Elite
Carbon
Pro Elite
Carbon
Length
229 cm
235 cm
235 cm
235 cm
235 cm
228 cm
228 cm
218 cm
220 cm
220 cm
Width
52 cm
61 cm
63 cm
70 cm
72 cm</td
81 cm
85 cm
91 cm
91 cm
100 cm
Volume
74 L
88 L
98 L
108 L
118 L
128 L
138 L
178 L
184 L
204 L
Bottom Shape
DC Reverse Vee
DC Reverse Vee
DC Reverse Vee
DC Vee to Inverse Vee
DC Vee to Inverse Vee
DC Vee to Inverse Vee
DC Vee to Inverse Vee
DC Reverse Vee
DC Reverse Vee
DC Reverse Vee
Footstrap Rows
2
2
2
2
2
2
2
2.4
2
1.2
Fin
Not supplied
Not supplied
Not supplied
Not supplied
Not supplied
Not supplied
Not supplied
Not supplied
Not supplied
Not supplied
Finbox
Short Tuttle
Short Tuttle
Short Tuttle
Short Tuttle
Short Tuttle
Deep Tuttle
Deep Tuttle
Foil Deep Tuttle
Foil Deep Tuttle
Foil Deep Tuttle
Fin Range
23-29 cm
29-33 cm
30-34 cm
35-39 cm
36-40 cm
40-46 cm
42-48 cm
All Foil Settings
All Foil Settings
All Foil Settings
Sail Range
4.7 – 7.0 m2
4.7 – 7.0 m2
5.4 – 7.0 m2
7.0 – 8.6 m2
7.0 – 8.6 m2
7.8 – 9.2 m2
7.8 – 9.6 m2
7.0 – 10 m2
7.8 – 10 m2
7.8 – 10 m2
Weight
5.0 kg
5.8 kg
5.9 kg
6.5 kg
6.7 kg
7.2 kg
7.6 kg
8.8 kg
8.8 kg
9.4 kg